Game Description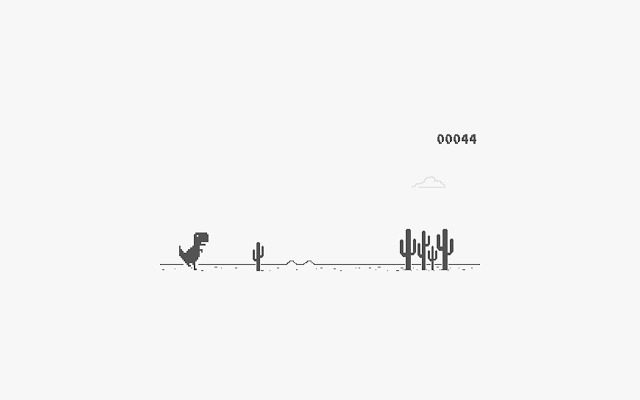 The Chrome Dinosaur Game, also known as the "T-Rex Runner," is a simple yet addictive endless runner game that you can play when your internet connection is offline in the Google Chrome web browser. Control a running T-Rex and help it avoid obstacles while racking up points.
Game Controls
Master the controls of the Chrome Dinosaur Game to guide your T-Rex through the prehistoric landscape:
Spacebar: Press the spacebar to make the T-Rex jump over obstacles.
Down Arrow Key: Press the down arrow key to make the T-Rex crouch and duck under obstacles.
How to Play Chrome Dinosaur Game
Chrome Dinosaur Game offers a straightforward and challenging gaming experience. Here's how to start:
Objective: Your main goal is to keep the T-Rex running for as long as possible while avoiding cacti and pterodactyls.
Start Running: The game automatically begins when you're offline and encounter the "No Internet" screen in Google Chrome.
Jump Over Cacti: Use the spacebar to make the T-Rex jump over the cacti that appear in its path.
Duck Under Pterodactyls: When flying pterodactyls approach, press the down arrow key to make the T-Rex duck and pass underneath them.
Score Points: The game keeps track of your distance traveled, and your objective is to accumulate the highest score possible.
Game Over: The game ends when the T-Rex collides with an obstacle. You can then choose to play again and attempt to beat your previous score.
Tips and Tricks
To improve your performance in the Chrome Dinosaur Game, consider these valuable tips:
Timing is Key: Practice your timing for jumping over cacti and ducking under pterodactyls to avoid collisions.
Consistent Rhythm: Maintain a consistent rhythm of jumps and ducks as the game speed increases.
Short Jumps: For low obstacles, make short jumps by tapping the spacebar lightly.
Stay Calm: Avoid panicking when obstacles appear rapidly. Focus on your timing.
Game Developer
The Chrome Dinosaur Game is a built-in Easter egg game created by Google's Chrome developers. It serves as a fun distraction for users when they experience internet connection issues while using the Chrome browser.
Game Platforms
Mobile Devices: Download the game on iOS and Android devices to play on the go.
How to Play Unblocked
Playing the Chrome Dinosaur Game unblocked is not applicable since it's designed to be a native feature of the Google Chrome browser. However, you can enjoy the game anytime you're offline and encounter the "No Internet" screen in Chrome. Just press the spacebar, and the T-Rex will start running.