Game Description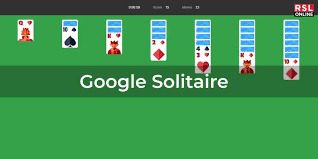 Google Solitaire, a beloved classic, is available for free directly through Google Search. In this timeless card game, you can enjoy the solitary challenge of arranging cards in sequential order while testing your patience and strategy.
Game Controls
Mastering the controls of Google Solitaire is essential for a successful game:
Mouse Click: Use your mouse to click and drag cards, allowing you to move them between piles effortlessly.
Auto-Move: For added convenience, you can double-click cards to automatically move them to the foundation piles if they can be placed there.
How to Play Google Solitaire
Google Solitaire is a single-player card game, renowned for its simple rules and engaging gameplay. Here's how to enjoy a round:
Objective: The primary goal is to arrange all the cards into four foundation piles, each organized by suit and in ascending order (from Ace to King).
Deck and Tableau: To start, a shuffled deck is dealt onto the tableau in seven piles. The first pile has one card face up, the second pile has two cards (with one face down and one face up), and so on.
Foundation Piles: As you play, move cards to the foundation piles if they match the suit and are in ascending order (Ace to King).
Tableau Rules: In the tableau, you can move face-up cards onto other face-up cards of the opposite color and in descending numerical order.
Drawing Cards: When needed, simply click the deck to draw new cards to the tableau. You can go through the deck as many times as necessary.
Winning the Game: Victory is achieved when all cards are successfully moved to the foundation piles. The game automatically recognizes your win, allowing you to bask in your success.
Tips and Tricks
To improve your skills and success rate in Google Solitaire, consider these helpful tips:
Plan Moves: Thinking ahead and planning your moves is crucial. Doing so allows you to reveal hidden cards and free up important cards in the tableau.
Empty Columns: Early in the game, aim to clear entire columns in the tableau. Doing this creates valuable space for strategic moves.
Priority Suits: If you have the option, prioritize moving cards from the tableau to the foundation piles in suits with more cards already played.
Draw Wisely: Exercise caution when drawing new cards from the deck. Each draw may limit your options, so choose your moves wisely.
Game Developer
While Google Solitaire is not developed by a specific game developer, it is part of the suite of card games offered by Google directly in its search results.
Game Platforms
Mobile Devices: Download the game on iOS and Android devices to play on the go.
How to Play Unblocked
Playing Google Solitaire unblocked is hassle-free. Simply search for "Google Solitaire" in your preferred web browser, and you can start a game without any restrictions. This classic card game is readily accessible to enjoy whenever you need a break or a mental challenge.