Game Description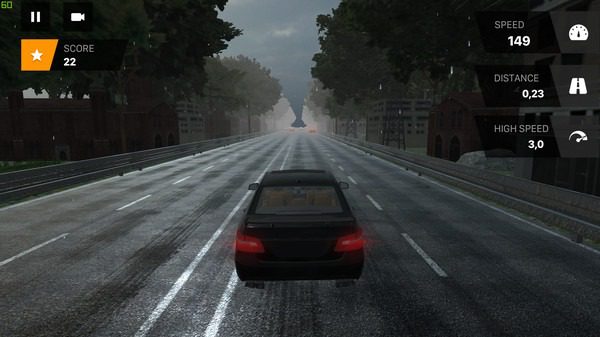 Highway Traffic is an adrenaline-pumping and fast-paced mobile racing game that puts your driving skills to the test. Developed by CarX Technologies, this game offers intense highway racing action with realistic graphics and physics.
Game Controls
To master the roads in Highway Traffic, you need to become familiar with these controls:
Acceleration: Tap and hold the gas pedal icon to accelerate your vehicle.
Braking: Tap and hold the brake pedal icon to slow down or stop your vehicle.
Steering: Tilt your device left or right to steer your vehicle in the respective direction.
Nitro Boost: Activate the nitro boost for a burst of speed by tapping the nitro icon.
How to Play Highway Traffic
Highway Traffic delivers a thrilling racing experience on busy highways. Here's how to dive into the heart-pounding action:
Objective: Your primary goal is to race as far as possible on the highway without crashing into other vehicles.
Starting the Game: Launch the game and select your vehicle from a range of options.
Accelerate and Steer: Tap and hold the gas pedal to accelerate and tilt your device to steer your vehicle through traffic.
Avoid Collisions: Maneuver through the lanes and avoid colliding with other vehicles, obstacles, and barriers on the highway.
Nitro Boost: Use the nitro boost strategically to overtake other cars and reach higher speeds. Be cautious; nitro is limited.
Collect Coins: Gather coins on the road to earn points and unlock new vehicles.
Tips and Tricks
To become a highway racing champion in Highway Traffic, consider these tips and tricks:
Maintain Speed: Keep a steady pace, but be ready to slow down or accelerate as traffic conditions change.
Use Nitro Wisely: Save your nitro boosts for crucial moments, like overtaking a line of cars or escaping tight spots.
Watch for Patterns: Pay attention to traffic patterns and anticipate the movements of other vehicles.
Upgrade Your Vehicle: Use your collected coins to upgrade your vehicle's speed, handling, and nitro capacity.
Challenge Yourself: Aim to beat your own high score with each playthrough and compete with friends for the top spot.
Game Developer
Highway Traffic was developed by CarX Technologies, a game development studio known for creating realistic and engaging racing games.
Game Platforms
You can enjoy the thrill of Highway Traffic on mobile devices running iOS and Android operating systems. The game is optimized for smartphones and tablets, offering gaming excitement on the go.
How to Play Unblocked
Playing Highway Traffic unblocked is simple and hassle-free. Download the game from your device's official app store, such as the Apple App Store or Google Play Store. Once installed, you can launch the game and start racing without any restrictions, allowing you to experience the excitement of highway traffic racing wherever you are.