Game Description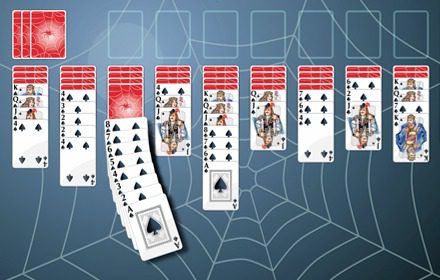 Spider Solitaire presents a widely recognized and challenging card game that tests your patience and strategy. Players engage with this classic solitaire variant, known for its intricate card layout and, most importantly, its engaging gameplay.
Game Controls
To effectively navigate and enjoy Spider Solitaire, you'll need to master these intuitive controls:
Mouse Click: Simply use your mouse to select and drag cards, allowing you to move them between piles and positions at your convenience.
How to Play Spider Solitaire
Spider Solitaire delivers an incredibly rewarding solo card game experience. Here's how you can dive headfirst into the captivating world of this eight-legged card challenge:
Objective: Your primary goal is to meticulously arrange all the cards within the tableau in descending order and by suit, progressing from King to Ace.
Initial Deal: The game begins by dealing a total of 54 cards into ten tableau piles. Specifically, the first four piles receive six cards each, while the remaining six piles receive five cards each.
Building Sequences: Your key strategy involves constructing sequences of cards in descending order, without regard to their suits. For instance, you can seamlessly position a 9 of hearts atop a 10 of spades.
Complete Suits: Triumphantly assemble an entire suit within a tableau pile in descending order, from King to Ace, and witness as that suit is automatically removed from play.
Empty Piles: Strive to empty all tableau piles by successfully creating complete suits. An empty tableau pile becomes a versatile space that can accommodate any card or sequence.
Deal New Cards: If you encounter a situation where no further moves are possible, you have the option to deal new cards from the stockpile. This action introduces a fresh row of ten new cards to the tableau, expanding your possibilities.
Winning the Game: You reach the pinnacle of achievement when you masterfully assemble all eight suits and the tableau stands gloriously empty.
Tips and Tricks
Enhance your prowess and increase your prospects of victory in Spider Solitaire by carefully considering these invaluable tips:
Sequence Building: Focus on constructing sequences of cards, particularly those that liberate tableau piles for future strategic maneuvers.
Empty Columns: Relentlessly strive to clear columns within the tableau. An empty column provides you with an abundance of flexibility when relocating cards.
Planning Ahead: Employ foresight by contemplating multiple moves in advance. Assess the consequences of each action methodically.
Uncovering Cards: Prioritize uncovering face-down cards, as they often harbor pivotal moves that can alter the course of the game.
Game Developer
It's noteworthy that Spider Solitaire is a classic card game that has integrated into various operating systems and bundled within game collections over the years. It doesn't have a specific game developer.
Game Platforms
Mobile Devices: Download the game on iOS and Android devices to play on the go.
How to Play Unblocked
Initiating a session of Spider Solitaire unblocked is an uncomplicated endeavor. You can readily access the game via a plethora of online gaming websites or opt for downloadable software versions, often available free of charge. However, ensure that you possess the requisite permissions to access gaming websites within your environment and adhere to any pertinent network policies.