Game Description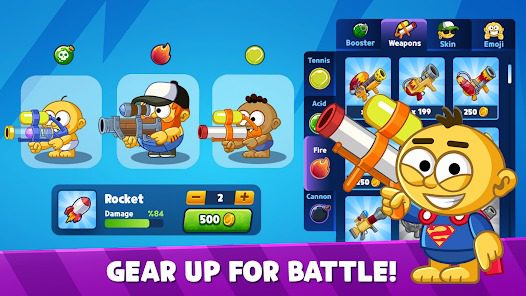 Raft Wars 2 is an exciting and entertaining online shooting game that will have you engaged for hours. In this sequel developed by Martijn Kunst, you'll embark on an epic adventure filled with water-based battles and strategic gameplay.
Game Controls
To master the art of raft warfare in Raft Wars 2, you need to become familiar with these controls:
Aim: Use your mouse to aim your weapon.
Shoot: Click the left mouse button to fire projectiles at your targets.
Choose Weapon: Scroll your mouse wheel or use the number keys '1' through '9' to select different weapons.
Adjust Power and Angle: Click and drag to adjust the power and angle of your shots.
How to Play Raft Wars 2
Raft Wars 2 is a thrilling battle on the high seas. Here's how to dive into the action:
Objective: Your main goal is to defeat your opponents by sinking their rafts while protecting your own.
Start the Battle: Begin each level by positioning yourself on your raft and aiming your weapon at the enemy rafts.
Take Turns: The game is turn-based. You and your opponents take turns firing shots at each other.
Collect Stars: Earn stars by defeating opponents and completing levels. Stars can be used to purchase upgrades and items.
Upgrade Your Arsenal: Spend your hard-earned stars wisely on weapon upgrades to gain an advantage in battles.
Progress Through Levels: Advance through a variety of challenging levels, each with its own unique obstacles and opponents.
Tips and Tricks
To conquer the watery battlegrounds of Raft Wars 2, consider these helpful tips and tricks:
Aim Carefully: Precision is key. Take your time to aim accurately before taking a shot.
Watch Your Ammo: Keep an eye on your ammunition. Running out of projectiles at the wrong time can leave you vulnerable.
Use Obstacles: Utilize obstacles in the environment to your advantage, using them as cover or to bounce shots toward your opponents.
Upgrade Wisely: Prioritize upgrades that enhance your firepower and accuracy to gain the upper hand.
Anticipate Enemy Moves: Predict your opponents' actions and adjust your strategy accordingly.
Game Developer
Raft Wars 2 was skillfully developed by Martijn Kunst, a game developer known for creating engaging and enjoyable online games.
Game Platforms
Mobile Devices: Download the game on iOS and Android devices to play on the go.
How to Play Unblocked
Playing Raft Wars 2 unblocked is hassle-free. Simply visit a website that hosts the game, and you can dive into the action-packed world of raft warfare without any restrictions. Ensure you have the necessary permissions to access gaming websites in your environment and adhere to any network policies in place.