Game Description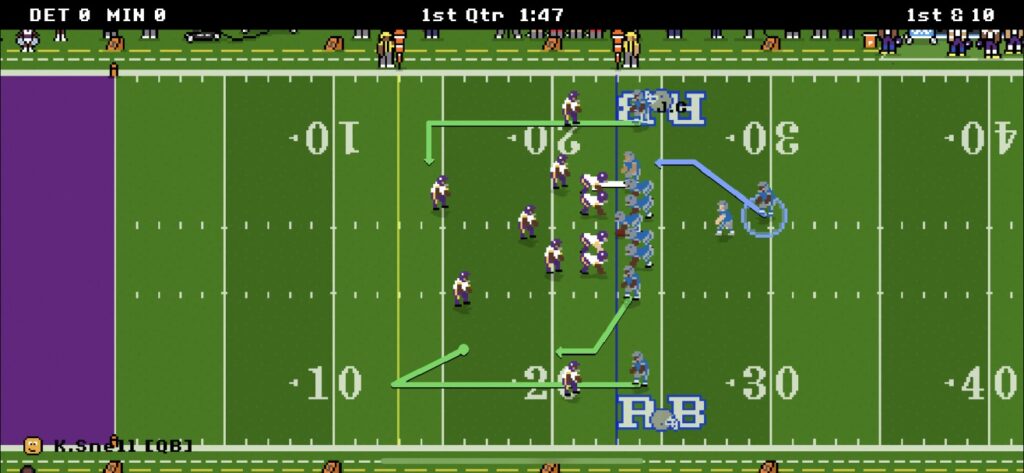 Tecmo Bowl is a classic American football video game developed and published by Tecmo, originally released in arcades in 1987. It was later ported to various home gaming consoles and became a beloved sports title. The game is known for its simple yet addictive gameplay and is often considered one of the pioneers of American football video games.
Game Controls
Before diving into the gameplay, it's essential to familiarize yourself with the controls:
Directional Pad (D-Pad): Use the D-pad to control your player's movement on the field. Push it left or right to change the direction, and up or down to control your player's speed.
A Button: The A button is primarily used for selecting plays during the play-calling phase and for snapping the ball during gameplay.
B Button: The B button is used for passing and tackling. When on offense, you'll use it to throw the ball to your receivers, and on defense, it's your primary means of tackling the ball carrier.
Start Button: Press the Start button to begin a game, pause, or make selections in the menu.
Now that you're familiar with the controls, let's move on to how to play Tecmo Bowl.
How to Play Tecmo Bowl
Tecmo Bowl features a simplified version of American football, making it accessible for both newcomers and seasoned gamers. Here's a step-by-step guide on how to play:
Choose Your Team: Start by selecting your preferred NFL team from the available options.
Select Plays: As the game begins, you'll enter the play-calling phase. Use the D-pad to scroll through the available plays for offense and defense. Choose plays that suit your strategy.
Offensive Gameplay: When playing offense, your goal is to advance the ball down the field and score touchdowns. Use the A button to snap the ball to your quarterback, and the D-pad to maneuver your players. Try to avoid the opposing team's defenders and pass the ball to your open receivers with the B button.
Defensive Gameplay: On defense, your aim is to stop the opposing team's offense from scoring. Use the D-pad to control your defenders and the B button to tackle the ball carrier or intercept passes.
Scoring: In Tecmo Bowl, you earn points by scoring touchdowns or field goals on offense while preventing the opposing team from doing the same on defense.
Winning: The game consists of four quarters, and the team with the most points at the end wins. Keep an eye on the game clock and manage your plays wisely to secure victory.
Tips and Tricks
To improve your Tecmo Bowl skills, consider these tips:
Mix Up Your Plays: Don't rely on the same plays repeatedly. Switch up your offensive and defensive strategies to keep your opponent guessing.
Learn Player Stats: Each player has different stats for speed, passing, and tackling. Familiarize yourself with your team's strengths and weaknesses to make informed decisions.
Master Timing: Timing is crucial, especially when passing and tackling. Practice your timing to execute perfect passes and effective tackles.
Use Special Moves: Some players have special moves that can be activated by pressing specific combinations of buttons. Experiment with these to gain an advantage.
Game Developer
Tecmo Bowl was developed by Tecmo, a well-known video game developer from Japan. Tecmo has a rich history of producing popular games across various genres.
Game Platforms
Mobile Devices: Download the game on iOS and Android devices to play on the go.
How to Play Unblocked
Playing Tecmo Bowl unblocked may require you to use emulators or online platforms that offer retro gaming experiences. Be cautious when using emulators, as they may exist in legal gray areas. Look for trusted sources and ensure you have the necessary ROM file for the game. Once you have the game files, you can use emulators to play Tecmo Bowl on your computer or mobile device.
In conclusion, Tecmo Bowl is a timeless classic in the world of American football video games, known for its simplicity and addictiveness. With the right strategies and a bit of practice, you can lead your team to victory and relive the glory days of retro gaming.