Game Description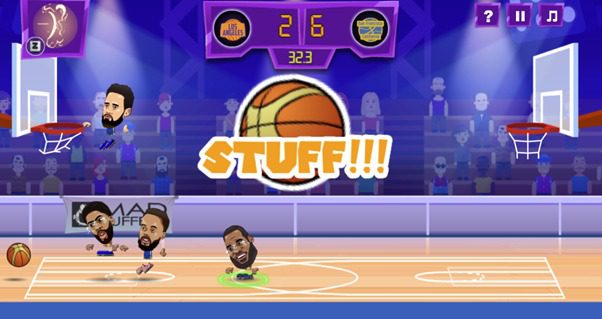 Basketball Legends is an addictive and fun basketball game that allows players to control legendary basketball players in exciting one-on-one matches. Developed by MadPuffers, this game features entertaining gameplay, simple controls, and the chance to compete against friends or AI opponents.
Game Controls
Understanding the controls is crucial for success in Basketball Legends. Here are the basic controls for the game:
Player 1 (Left Side):

Move Left: Left Arrow Key
Move Right: Right Arrow Key
Jump: Up Arrow Key
Shoot: 'X' Key
Steal: 'Z' Key

Player 2 (Right Side):

Move Left: 'A' Key
Move Right: 'D' Key
Jump: 'W' Key
Shoot: 'K' Key
Steal: 'L' Key
How to Play Basketball Legends
Basketball Legends offers accessible and entertaining basketball gameplay. Here's how to play:
Objective: The primary goal is to outscore your opponent by making baskets while preventing them from scoring.
Select Your Player: Choose your legendary basketball player, each with unique abilities and skills.
Game Modes:

1 Player: Play against the AI in a single-player game.
2 Players: Challenge a friend to a head-to-head match on the same device.

Offense: Use the controls to move your player, jump, and shoot the ball to score points.
Defense: Block your opponent's shots and steal the ball to regain possession.
Tips and Tricks
To become a basketball legend in Basketball Legends, consider these tips and tricks:
Master Player Abilities: Each player has unique abilities. Learn how to use them effectively to gain an advantage.
Practice Shooting: Perfect your shooting skills, especially three-pointers, to score more points.
Defensive Strategies: Focus on blocking shots and stealing the ball to stop your opponent from scoring.
Teamwork (2-Player Mode): When playing with a friend, communicate and coordinate your moves for better teamwork.
Game Developer
Basketball Legends was developed by MadPuffers, a game development studio known for creating web-based and mobile games.
Game Platforms
Mobile Devices: Download the game on iOS and Android devices to play on the go.
How to Play Unblocked
Playing Basketball Legends unblocked is typically straightforward since it's a web-based game. You can often access it on most school or workplace networks without restrictions. Simply visit a website that hosts the game, and you can enjoy competitive basketball matches without any issues. Always ensure you have permission to access gaming websites in your environment and adhere to any network policies in place.