Game Description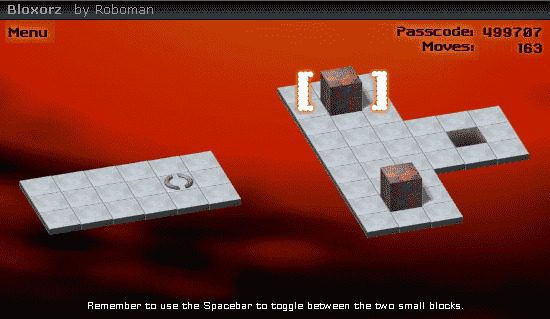 Embark on a challenging puzzle-solving journey with Bloxorz, a captivating online puzzle game. Developed by Damijin, this game will test your spatial intelligence and problem-solving skills as you navigate a block through increasingly complex levels.
Game Controls
Mastering the controls is crucial to tackle the puzzles in Bloxorz. Here are the basic controls for the game:
Arrow Keys: Use the arrow keys on your keyboard to move the block in four directions: up, down, left, and right.
How to Play Bloxorz
Bloxorz offers a unique and intriguing puzzle-solving experience. Here's how to navigate the world of blocks and switches:
Objective: Your primary goal is to guide a rectangular block, known as the 'bloxorz,' to fall into the square hole, marking the end of each level.
Movement: Utilize the arrow keys to roll the bloxorz across the grid-based levels.
Switches: Pay close attention to pressure-sensitive switches on the ground. Rolling over them can trigger various effects, such as opening bridges or revealing hidden paths.
Holes and Bridges: Avoid letting the bloxorz fall off the edge or into holes. Some levels feature retractable bridges that you'll need to activate to cross gaps safely.
Splitting: At times, the bloxorz can be split into two separate blocks, each controlled independently. This mechanic introduces complex puzzles that require precise control and strategy.
Solving Puzzles: Approach each level as a unique puzzle. Analyze the layout, anticipate consequences, and plan your moves strategically to reach the square hole.
Tips and Tricks
To excel in Bloxorz and conquer its challenging puzzles, consider these tips and tricks:
Plan Ahead: Visualize your moves and their consequences before executing them. Careful planning is the key to success.
Use Bridges Wisely: Activate bridges only when necessary. Leaving them extended can block your path later in the level.
Watch for Patterns: Look for recurring patterns and motifs in the level design. Some levels may have clues that guide your actions.
Mind the Edges: Pay special attention to the edges of the grid. Falling off the edge usually results in failure, so be cautious.
Trial and Error: Don't be afraid to experiment with different approaches. Some puzzles may require multiple attempts to solve.
Game Developer
Bloxorz was crafted by Damijin, a game developer known for creating engaging and thought-provoking puzzle games.
Game Platforms
Mobile Devices: Download the game on iOS and Android devices to play on the go.
How to Play Unblocked
Playing Bloxorz unblocked is typically straightforward. Ensure you have the necessary permissions to access gaming websites, then visit a website hosting the game. This allows you to immerse yourself in the challenging world of block puzzles without any hindrances while adhering to any network policies in place.