Game Description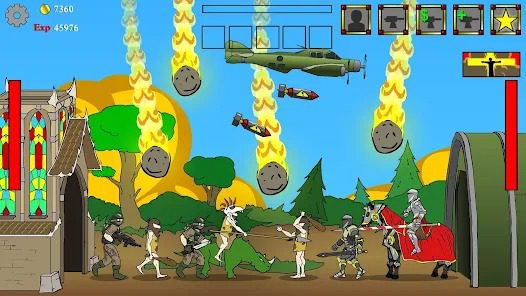 Age of War presents an exciting and strategic online gaming experience. Developed by Louissi, this game seamlessly combines elements of strategy, defense, and warfare. As players embark on their journey through various historical ages, they are tasked with building armies and defending their base against relentless foes.
Game Controls
Understanding the controls is crucial to succeed in Age of War. Players can easily navigate the game using the mouse for most actions. By clicking on units, upgrades, and options, they can interact with the game effortlessly. For certain actions, keyboard shortcuts are also available, such as 'Q' for previous unit, 'W' for the next unit, and 'E' for special attacks.
How to Play Age of War
Age of War offers a deep and immersive strategy gaming experience. To get started, players need to grasp the game's objectives and mechanics:
Objective: The primary goal in Age of War is to destroy the enemy's base while diligently defending your own base across different historical ages.
Ages: Progressing through the game involves navigating through multiple ages, each characterized by unique units and upgrades. Players earn experience points to advance to the next age.
Base Building: A critical aspect of the game is generating income. Players can achieve this by strategically placing defensive turrets on their base. By allocating income to train and upgrade units, they can reinforce their forces.
Battle: Engaging in battles is an integral part of the game. Players can dispatch units to attack the enemy base. These units automatically engage enemy units and structures, ultimately aiming to destroy the enemy's base.
Special Abilities: To gain an advantage during battles, players can utilize special abilities, easily accessible through hotkeys, allowing them to turn the tide of battle in their favor.
Evolving: As players progress through ages, they will witness their units and base evolving, growing more potent and acquiring new abilities, enhancing their strategic options.
Tips and Tricks
To excel in Age of War and formulate effective strategies, players should consider the following tips and tricks:
Economy Matters: Striking a delicate balance between building a robust economy and creating a formidable army is key to success. Players should prioritize income generation.
Unit Diversity: Embracing unit diversity is crucial. Players should utilize a wide array of units to adapt to various enemy strategies and scenarios.
Upgrade Wisely: Thoughtful allocation of resources to unit and base upgrades is vital. Players should tailor their upgrades to align with their chosen playstyle.
Defend Effectively: Players should not underestimate the importance of defense. Protecting their base while planning their offensive maneuvers is essential to ensure success on the battlefield.
Game Developer
Age of War was crafted by Louissi, a respected game developer renowned for creating captivating and challenging games.
Game Platforms
Mobile Devices: Download the game on iOS and Android devices to play on the go.
How to Play Unblocked
Accessing Age of War unblocked is typically straightforward, as the game is often available online for free. Players can enjoy it on most school or workplace networks without restrictions. All they need to do is visit a website hosting the game, allowing them to immerse themselves in the world of strategy and defense gaming without any hindrances. Naturally, it is essential to have the necessary permissions to access gaming websites and to adhere to any network policies in place.